Industrial Linear Servo Stabilizer
Rolling Contact Type Voltage Stabilizer is one powerful boon by the technology that is used to overcome the problems of electricity fluctuation. These are extensively used in various industrial applications and have proved their worth through their extensive performance and quality services.
It is an essential and extremely relevant part of the manufacturing or industrial units that often faces electricity breakdowns/fluctuations. The main mechanism in the Rolling Contact Type Voltage Stabilizer is performed by the carbon rollers. These rollers rotate whenever the other component moves up and down. Due to this continuous movement, the point of contact changes every time, which ensures the durability of the carbon rollers.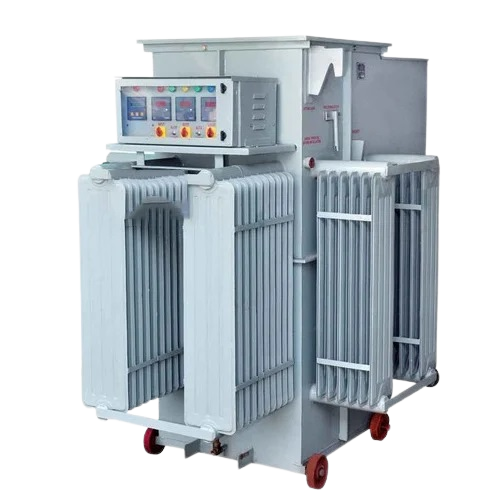 The efficiency of these stabilizers is very high. The winding of the stabilizer is done through a copper strip, which allows it to carry a high-capacity current. A high-quality rolling contact type stabilizer is a one-time investment, which lasts for a long period, around 20 years. we ensure that you receive the best service from the stabilizers we deliver, hence we manufacture them, keeping the high standards in mind.
Technical Specifications: -
Technology-Rolling Contact Voltage Stabilizer
Type-Balanced/Unbalanced Input & Balanced/Unbalanced Load
No of Phases- Single/Three Phase
Frequency- 50 Hz. +- 5%
Power Factor- >.95
Cooling- Air Natural Oil Natural (ANON)
Air Forced Oil Forced (AFOF)
Input Voltage- 155V-270V,170-270V,195V-270V,205V-270V (Single Phase) 270V-460V,300V-460V,340V-460V,360V-460V (Three Phase)
Output Voltage-230 V +- 1% (Single Phase) 400 V +- 1% (Three Phase) Or Adjustable
Rate of Correction- 10-15 Volts (Per Second)
Overload Capacity- 125% For 1 Min.
Winding- Pure Electrolyte Copper Strip
Temperature Rise- Ambient + 55C
Insulation Resistance- < 5 Mega Ohms. At 500 V DC
Type Of Installation : Indoor/Outdoor
Electrical Strength : 2000 V for 1Min. without Breakdown and Flash Over
Waveform-Pure Sinusoidal Wave
Response Time- <30ms. Per Volt.
Efficiency:>98% Display-Analog/Digital
Protections:

Over Voltage & Low Voltage Cut Off
Over Load Cut Off
Short Circuit Protection
Phase Reversal Protection
Phase Fail Protection
By Pass Arrangement
Advantages of Rolling Contact Type Voltage Stabilizer:

The motor within the controller can withstand high-current.
It is suitable for indoor or outdoor installation.
Its performance is not hampered due to its placement.
It reduces your unwanted headache of energy loss at your unit.
It improves the power factor in the high-voltage situation.
It is equipped with contractors, switch gears and relays.
It provides first-grade efficiency with reduced MDI.